What is a LED Tactile Switch?
Tactile switches are small compact switches, designed to mount PCB boards, made to connect electronic components to form an electronic circuit. Tact switches require less force to engage the switch and in general have more of a 'clicky' feel when pressed.

PCB Tactile switches?

A PCB switch is a switch that is directly mounted onto a PCB (Printed Circuit Board). Surface mount PCB switches (SMD/SMT) are designed to sit flat, directly on top of a PCB. Through-hole or 'thru-hole' PCB switches are inserted into a drilled hole on the printed circuit boards and soldered to pads on the opposite side.
Illuminated Tactile Switches
RJS Electronics supplies a wide range of tact switches with LED illumination. The following options are included within our LED illuminated tact switches.
Single Colour Illumination: component only displays single colour LED and when illuminated usually indicates the device is operational or signals fault.
Dual/ Bi-Colour Illumination – a component that allows two colours in a single LED, this means the colour will change from one to the other but not display together. For example, red/green LED.
RGB illumination consists of red, green and blue LEDs. RGB illumination combine these colours to produce a wide range of hues of light.
Alternatively, if you require a non-illuminated version, view our non-illuminated tact switches here.
Read our full blog post on Tact switches, click the link below!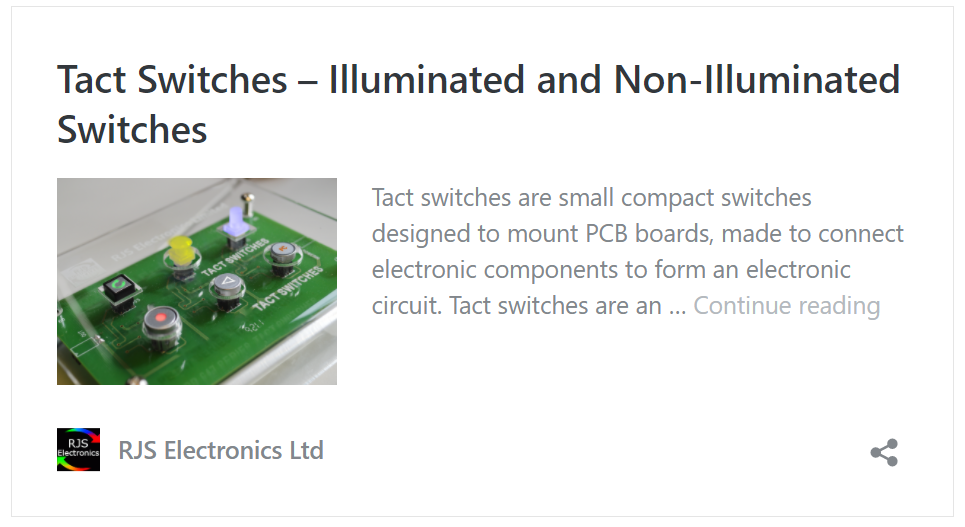 How to place an order?
There are many ways to place an order and enquire about our PCB Toggle switches.
We operate Monday – Thursday 8 am – 5 pm and Fridays 8 am – 4.30 pm, call us on +44 (0)1234 213600 to speak to our Sales Engineers or e-mail us on [email protected] alternatively, leave us a message using our online contact form.
Download our latest brochure and Product Catalogue.
Join our mailing list to get the latest news, read our blog posts and see our latest products.