What is a PCB Switch?
A PCB switch is a switch that is directly mounted onto a PCB (Printed Circuit Board). Surface mount PCB switches (SMD/SMT) are designed to sit flat, directly on top of a PCB. Through-hole or 'thru-hole' PCB switches are inserted into a drilled hole on the printed circuit boards and soldered to pads on the opposite side.
See our range of PCB electromechanical components. We have further divided our products into sub-categories to help you find the component you need much more efficiently. Consisting of low profile Pushbutton Switches, LED Tactile Switches, Non-Illuminated Tact Switches, Pots, Encoders & Knobs, Relays, Toggles, DIP, Slide & Rotary Switches.
Poles and Throws
Our PCB switch range provides a variety of different poles and throws. See our handy break down on poles and throws below!
SPST (Single-pole, single-throw) switch has only got one output and one input.
SPDT (Single-pole, double-throw) switches have three terminals, one common pin and two pins which contend for connection to the common. Most suited to devices selecting between two power sources.
DPDT (Double-pole, double-throw) switches are essentially two SPDT switches that control two separate circuits and are switched together by one single actuator.
Momentary or Latching function?
Our PCB switch range consists of both momentary and latching options. A momentary switch only works when there is a force pressing the button, once this force is removed the switch is no longer engaged. A latching switch maintains the state once pressed, until the push button is pressed again to release the switch.
LED Illumination Options
RJS supplies both non-illuminated and illuminated push switches. Choosing what type will depend on the function and design of your product. There is a wide range of LED illumination options including single, bi-colour, dual colour or full RGB LED illumination. How the illumination is displayed also varies. Variations include;
Ring illumination
Dot illumination
Custom text/symbol illumination
Full illumination
Don't require illumination but still want your switch to stand out? We can help with custom PCB switch caps, no illumination required!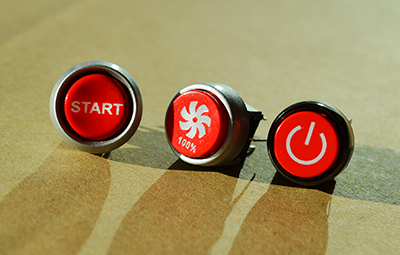 We operate Monday – Thursday 8 am – 5 pm and Fridays 8 am – 4.30 pm, call us on +44 (0)1234 213600 to speak to our Sales Engineers or e-mail us on [email protected] alternatively, leave us a message using our online contact form.
Download our latest brochure and Product Catalogue. Join our mailing list to get the latest news, read our blog posts and see our latest products.