Plastic LED indicators and panels are electromechanical components available in a range of shapes and sizes which light up. Essentially, plastic LED indicators refer to the housing of which the LED indicator sits within is plastic housing. LED indicators are panel mount switches, meaning they sit directly on top of a component and part of a wider electrical circuit.
Plastic LED indicators and panels are switches designed to omit light to give the signal of change or warning through LED illumination and require no touching. LED indicators and panels are available in a variety of shapes and sizes to suit a range of designs and applications for a wide range of industries.
We have made it easier to find the correct LED indicator you may need by categorising it by material and size. Many of our LED indicators are support voltage 5V – 48V.
We can supply metal and plastic LED indicators and panels.
LED Options:
Select from full illumination or split-screen.
The display of the illumination can be full illumination, meaning it will display a single/bi-colour/RGB colour illuminating the entire surface of the indicator or it can be split.
Some of our plastic LED panels can support split-screen options from two, three of four split options to display colours together or separately.
LED Illumination Options
| | |
| --- | --- |
| Single LED Illumination | A single LED illumination is the display of a single LED colour. |
| Bi-Colour LED Illumination | A bi-colour LED switch means it can display two colours together or switch between two LED illumination. |
| RGB LED Illumination | Switches that are listed with 'RGB' LED illumination, with the combination 'red', 'blue' and 'green', over 16million hues of light can be achieved. However, some pinks and browns are difficult to achieve. |
LED Colours Options:

Red | Yellow | Blue | Orange | Green | Amber | White
*actual LED illumination will vary in tone due to materials and voltage used.
These colours may be available as single, bi-colour and RGB. For more information speak to our Sales Engineers.
Terminal Options
Choose from screw terminals or connector type or Solder-lug terminals. All terminal options are designed for fast and easy installation.
IP Rating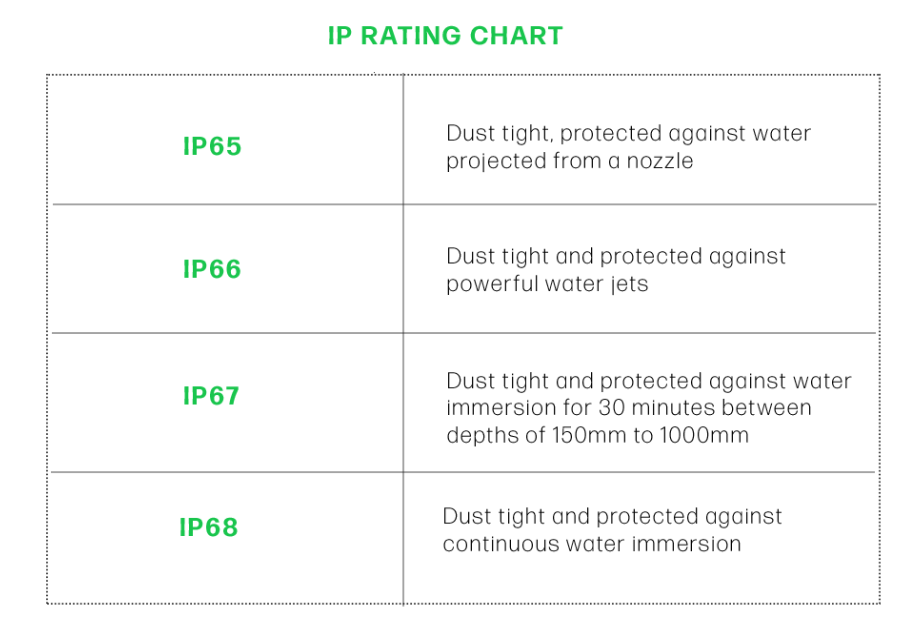 IP ratings are standards set out by IEC (International Electrotechnical Commission) under the 60529 standards document which specifies a classification system on the effectiveness in the sealing of enclosures of electrical equipment. This looks at the protection of factors such as dust and water/moisture.
The IP rating will depend on how hard wearing or weatherproof the component needs to be. For example, a metal push button switch in a swimming pool will need to be waterproof and hence this product will need a higher IP rated switch.
See the chart below outlining the IP rating and its characteristics.
Sizing:
Our plastic and metal LED indicators are available from 6mm to 30mm, choose head/actuator shape from rectangular, round or square.
How to place an order?
There are many ways to place an order and enquire about our push button Metal switches
We operate Monday – Thursday 8 am – 5 pm and Fridays 8 am – 4.30 pm, call us on +44 (0)1234 213600 to speak to our Sales Engineers or e-mail us on [email protected] alternatively, leave us a message using our online contact form.
Download our latest brochure and Product Catalogue.
Join our mailing list to get the latest news, read our blog posts and see our latest products.