Rocker switch is commonly used for switching electronic devices on and off. The rocker mechanism is designed to rock back and forth, where one part is down and the other is up, resembling a see-saw.
Many of our rocker switches are available as a right angle, vertical or vertical right angle through hole termination.
We have ultra-miniature rocker switches available too.
Our rocker switches are available as SPDT or DPDT.
Additionally, supporting a range of actuator colours and epoxy seal and gold contacts contact rating up to 0.4VA.

3a Rocker Switch, find all of our rocker switches located under our 'Panel Mount' switches. Available with a range of actuators and configurations (SPST, DPDT, 3PDT, 4PDT).
---
Poles, Throws, Open & Closed explained.
Notice that our Rocker Switches have 'SPDT and DPDT'. Here is why…  These abbreviations denote 'poles, throws
Usually, a switch will have two terminals, one for the current to go in and the other to come out. However, a switch may have more than two pins.
The number of poles on a switch defines how many separate circuits the switch can control. So a switch with one pole (SPST), can only influence one single circuit. The amount of Poles will determine how many circuits the component, Rocker Switch, can control.
A switch's throw count defines how many positions each of the switch's poles can be connected to. For example, if a switch has two throws, each circuit (pole) in the switch can be connected to one of two terminals.
You'll see poles and throws,  "single-pole, single-throw", "single-pole, double-throw", and "double-pole, double-throw",  abbreviated down to SPST, SPDT, and DPDT, respectively.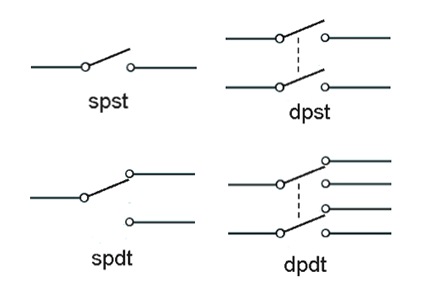 SPST: single pole, single throw.
DPST: double pole, single throw.
DPDT: single pole, double throw.
DPDT: double pole, double throw.
---
  Applications:
Rocker switches are used for a variety of electrical devices suited for domestic and commercial use. Additionally, our rocker switches support a range of industries:
---
How to place an order?
Interested in our products? Speak to us today!
We operate Monday – Thursday 8 am – 5 pm and Fridays 8 am – 4.30 pm, call us at +44 (0)1234 213600
to speak to our Sales Engineers or e-mail us at [email protected] alternatively, leave us a message using our online contact form.
Download our latest brochure and Product Catalogue. Join our mailing list to get the latest news, read our blog posts and see our latest products.