The 411 with RJS.
Question: What are Encoders?
An encoder can be referred to as:
device
circuit
software programme to transfer information
or PCB electro-mechanical component that is used for control.
RJS Electronics supplies a range of PCB, Encoders which are designed to control factors within an electronics device through rotation and push-button selection.
The rotary mechanism will either increase or decrease the operation.
Let us give you a short and sweet 411 about the key features of our PCB Encoders.
Pots, Knobs & Encoders
See our range of Encoders, listed under Pots, Knobs & Encoders under the PCB side on the navigation menu.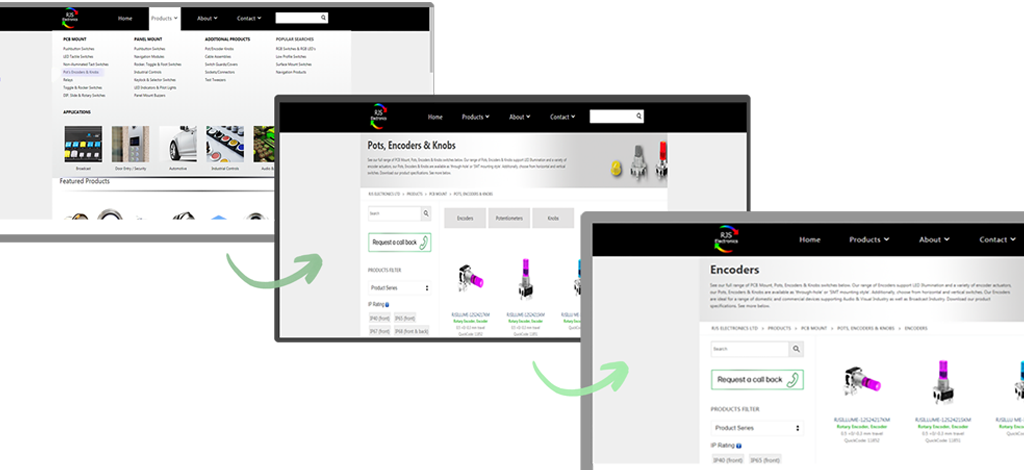 PCB or Panel Mount?
A PCB Encoders switches can be directly mounted (Printed Circuit Board). Surface mount PCB encoder switches (SMD/SMT) are designed to sit flat, directly on top of a PCB. Through-hole or 'thru-hole' PCB encoder switches are inserted into a drilled hole on the printed circuit boards and soldered to pads on the opposite side. See our range of PCB switches here.
Panel Mount Encoder switches are inserted from below into a hole in a panel. Panel mount switches are designed to sit outside an enclosure. See our guide to panel-mount switch pins here. For our range of panel mount switches click here.
| | |
| --- | --- |
| PCB, Encoder without LED Illumination, available as horizontal and verticle encoder. | SF39EBPanel Mount, metal rotary Encoder with power symbol, push button centre. |
Find out more about our black PCB encoder with illuminated power symbol. Rotary encoder and Navigation Switch.

RJS – SDE

Our latest rotary encoder switches are multi-functional supporting a full TFT display screen and push-button mechanism.
 Vertical or Horizontal?
We have a selection of PCB Encoders. These PCB Encoders are available in horizontal or Vertical type, up to 11cm in height and support LED illumination.
| | |
| --- | --- |
| RJSENCODE-11B20222 PCB, Horizontal encoder without LED Illumination. | RJSILLU ME-12S24204- Red, PCB, Illuminated Encoder, available as Vertical and Horizontal  Encoder. |
LED illumination Options*:
Our PCB Encoders support Full LED illumination:
 Single LED Illumination available in:

Red
Lawn green
Blue
Orange
White
Green
Dark Orange.
or
 Dual Colour LED Illumination available in the following combinations:

Blue/Orange
Green/Red
Blue/Green
Red/Green
Green/Orange
Blue/Red
White/Red
White/Green.
or
 Three colours (Red/Green/Blue)
or
Opt for non-illumination encoder switch.
| | |
| --- | --- |
| PCB, Encoder without LED Illumination, available as horizontal and verticle encoder. | |
(speak to our Sales Engineers for more information on LED illumination options.)
Many of our PCB Encoders are currently used by a range of devices in the broadcast industry and audio & visual industry.
For more technical information, Contact us today and speak to our Sales Engineers!
---
See our range of Encoders | Download our recent product catalogue | Did you know that our products can be customised?
Call us on +44 (0)1234 213600 or email us at [email protected], or use our contact page to leave us a message.
Keep informed by joining our mailing list and be sure to follow us on  Facebook | Twitter |Linked In | Instagram | Pinterest | Youtube