Anti-vandal switches is an alternative name given to or reference made to metal panel mount, push button switches. Anti-Vandal Switches are metal push button switches which are a hardwearing and durable, often made from stainless steel or metal material to ensure it is robust functionality and withstands repetitive use. Anti-vandal switches or push button metal switches are panel mount switches meaning they are placed as a part of a circuit or device and commonly have solder lug terminals, enabling simple installation and easy use.
Anti-vandal switches are also referred to as vandal resistant switches (hard to break or switches that withstand vandalism, intended damage without purpose) as they are reliable with rugged protection. Anti-vandal switches can be spotted in a variety of public spaces used for a wide variety of applications designed for repetitive use over a long period.
Commonly, anti-vandal switches are metal switches, which can be brushed steel, anodised black, coloured metal, brass (gold coloured) or stainless steel. Available in a range of sizes from the smallest of 8mm (under 1cm) up to 40mm (4cm).
How to select an anti-vandal switch?
First select from the size: 8mm – 42mm
8mm, 10mm, 12mm, 16mm, 19mm, 22mm, 25mm, 28mm, 30mm, 40mm and 42mm.

Momentary or latching?
Next pick from the functionality.
Does your designed product require the switch to be momentary or latching?
momentary: Momentary means the actuator of switch returns immediately.
Latching: Latching metal push button switch means that when it's first pressed, the central part of the switch stays down
High Head or Flat Head or Ball Head?
Next, pick the type of switch. Does your design or application require a flat head or high head anti-vandal switch?
LED Illumination:
Now you've selected the key features of your anti-vandal push button metal switch, here are some additional features you may need to consider…
Does your anti-vandal switch require LED illumination? If so… does it require a ring/dot/power symbol or custom illuminated LED illumination?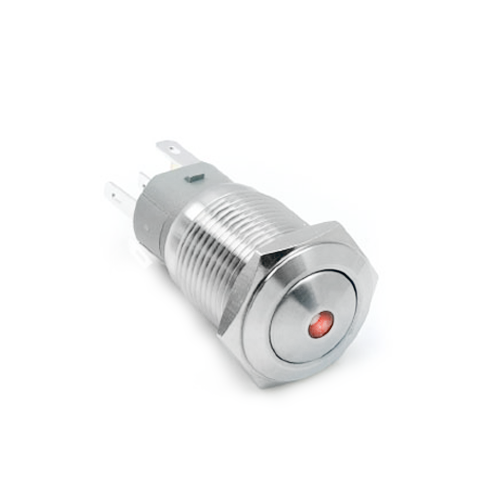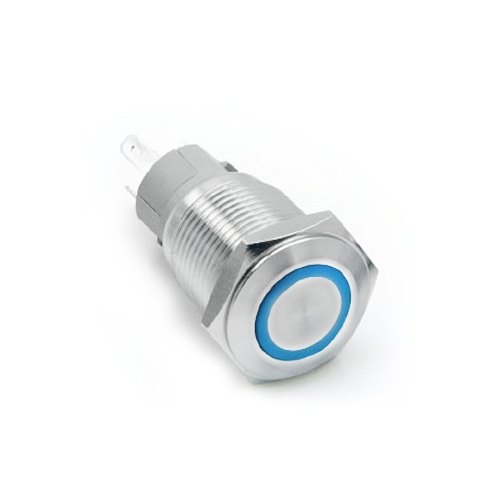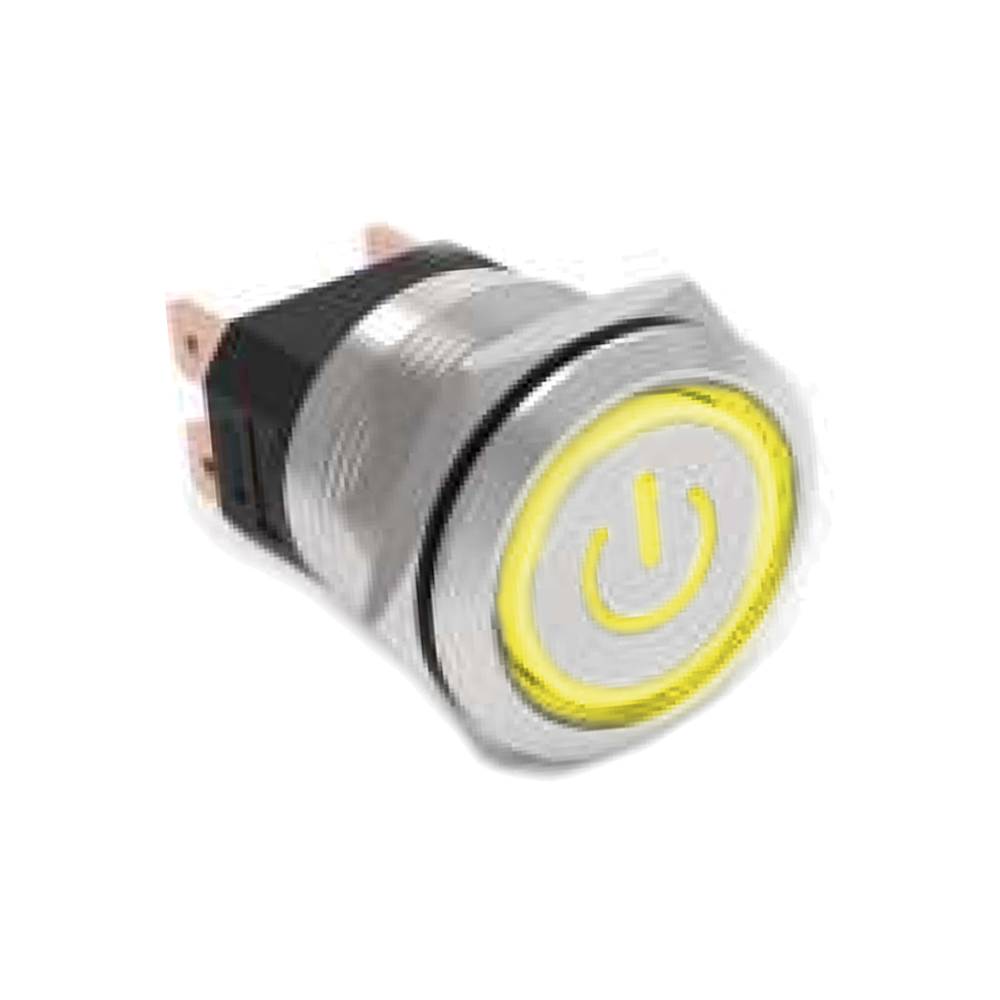 Sticking with LED illumination does you anti-vandal switch require single/bi-colour or RGB LED illumination. See the available colour LED illumination options listed on the full product specifications and single product pages. If you require more information about the available LED illumination option, speak to us directly!
Moving from the LED illumination options, here are some additional technical features may need to consider when selecting the correct anti-vandal switch.
What kind of terminals does your application design require? Many of our anti-vandal switches have solder lug terminals meaning ….
Another technical feature to consider is the voltage. All our anti-vandal, metal push button switches are available with 5V/12V and 24V.
Pole and Throw Configurations

SPSP – single pole single throw |SPDT – single pole double throw
DPST – double pole single throw | DPDT – double pole double throw
3PDT – Three poles double throw | 4DPDT – Four poles double throw
SPST rocker switches make or break the connection of a single conductor in a single branch circuit. This switch type typically has two terminals and is referred to as a single-pole switch.
SPDT rocker switches make or break the connection of a single conductor with either of two other single conductors. These switches usually have three terminals and are commonly used in pairs. SPDT switches are sometimes called three-way switches.
DPST rocker switches make or break the connection of two circuit conductors in a single branch circuit. They usually have four terminals.
DPDT rocker switches make or break the connection of two conductors to two separate circuits. They usually have six terminals are available in both momentary and maintained contact versions.
Switch Configurations:
A normally open (NO) rocker switch has contacts that are open or disconnected in their unactuated (normal) position. A normally closed (NC) rocker switch has contacts that are closed or connected in their unactuated (normal) position.
Additional benefits to consider giving your product a design advantage:
IP Rating: Majority of our anti-vandal switches are all waterproof, IP65, IP67 or IP68.
What are IP Rating: IP ratings are standards set out by IEC (International Electrotechnical Commission) under the 60529 standards document which specifies a classification system on the effectiveness in the sealing of enclosures of electrical equipment. This looks at the protection of factors such as dust and water/moisture.
The IP rating will depend on how hard wearing or weatherproof the component needs to be. For example, a metal push button switch in a swimming pool will need to be waterproof and hence this product will need a higher IP rated switch.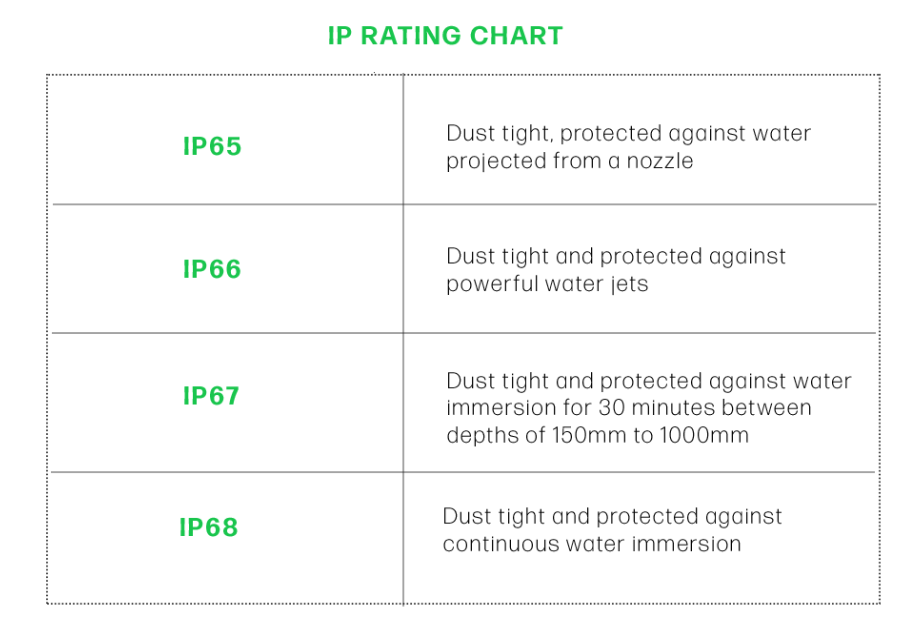 IP Rating – save our table. (Click to save or screenshot the information!)
IP65 metal switches | IP67 metal switches | IP68 rated metal switches
Let's get personal. Our anti-vandal switches (metal push button switches) can be customised. Our anti-vandals can be available in Brushed Steel, Colourful Anodized, Chrome Finish to support your design. See our custom options –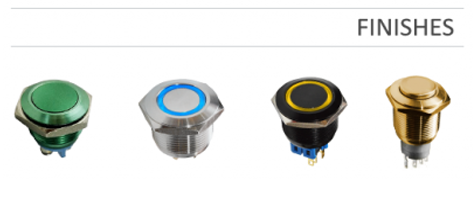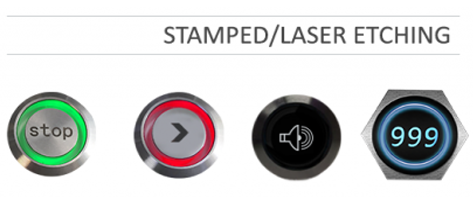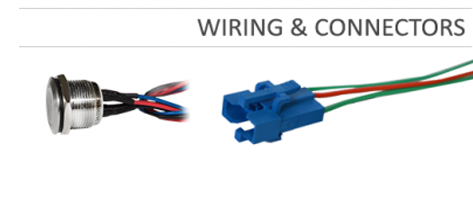 Latest series to be added to our anti-vandal switch range: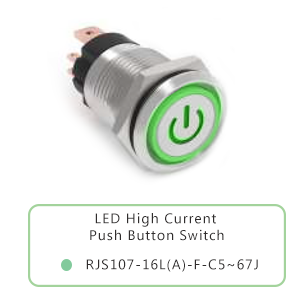 High Current Switches – Our high current switches operate at lower power making them highly efficient and cost efficient.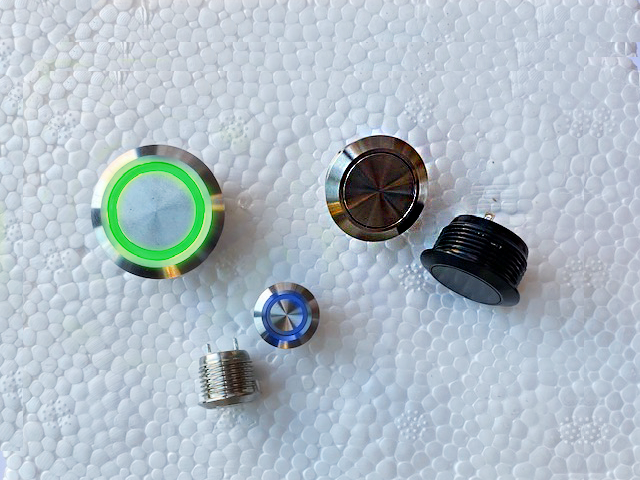 Low Profile Switches – Our low profile switches are switches designed do be shorter in height maximising your design to be compact.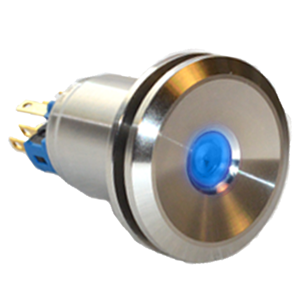 Flat Mushroom head – We currently offer two sizes in our flat head mushroom switch and available with single LED illumination. The flat mushroom head push button switch is ideal for a range of applications used by a range of industries. For example, the flat head mushroom switch can be used as a sensory and/or practical function within a domestic or commercial environment. It can also be ideal for industrial environments to control a function or area.
Applications:
Most common applications that use anti-vandal switches are public crossings, push to enter buttons outside secured public toilets, public entry points within retail or lift systems. Additionally, anti-vandal switches are now making an appearance in cars as 'push to start engine', and buses or even in domestic or commercial kitchen appliances such as coffee machines.  These are just a few places to name and are not limited to.
View our full product range here  | Download our recent product catalogue
Find our range of panel mount push button switches | Not sure how to place an order?
Did you know our products can be customised?
Call us on +44 (0)1234 213600 or email us at [email protected], or use our contact page to leave us a message.
Keep informed by joining our mailing list and be sure to follow us on:
 Facebook | Twitter |Linked In | Instagram | Pinterest | Youtube