"Established in 2003, RJS Electronics is known to provide high quality products with great customer service. We supply an extensive range of push button switches and specialise in LED illuminated switches. Other products include; Relays, Pots & Encoders, Navigation Modules, Indicators and LCD Displays. Many of our products can be customised to help meet your design requirements. Contact us today and see how we can help you!"
Welcome to RJS Electronics.
We are committed to constantly update information on our products and services.
Therefore, we wanted to give you an insightful introductory to our website, ensuring its friendly-easy-to-use.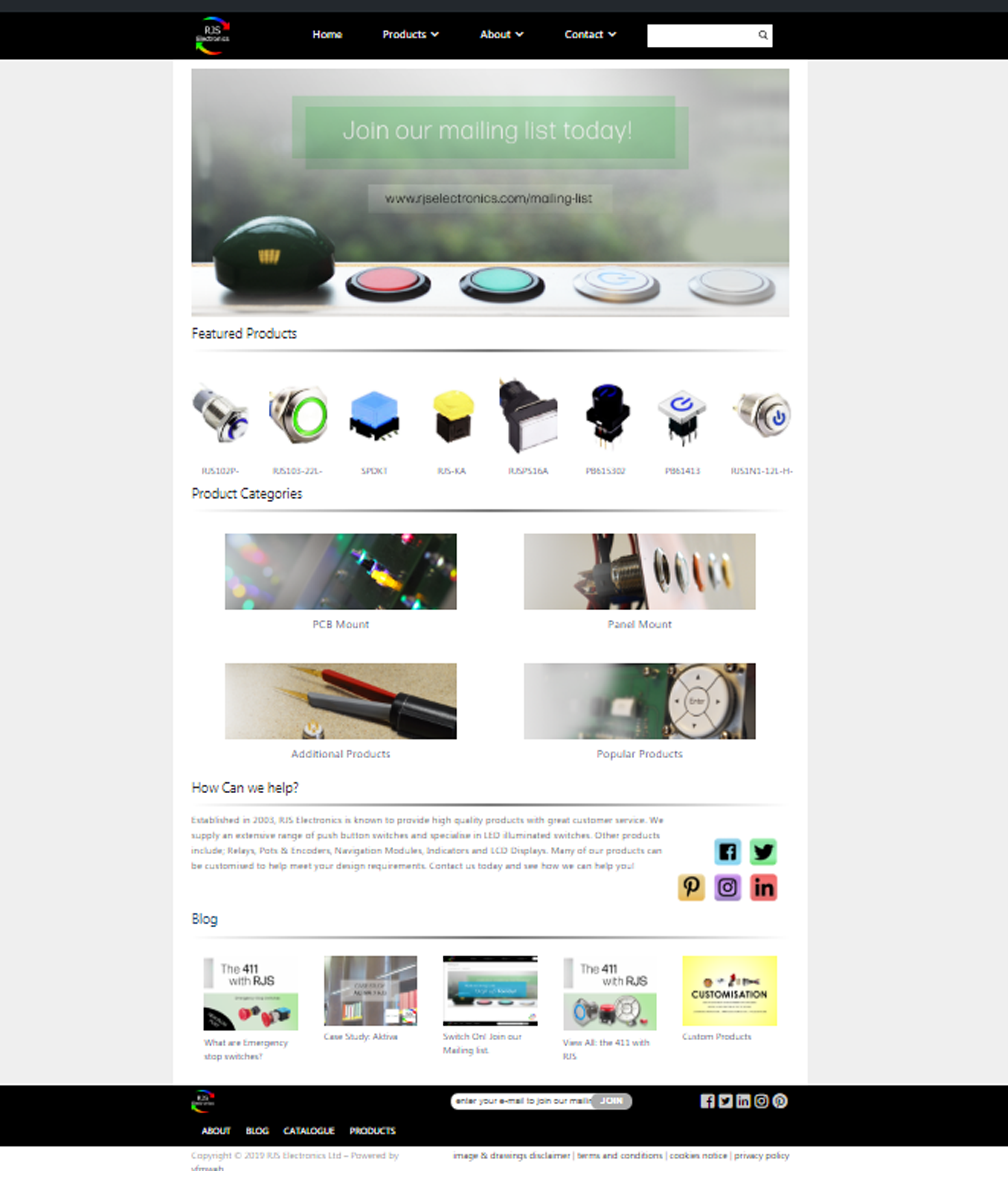 Lets start with or Navigation menu:
Split into PCB: find our
We know it's a long list and some our parts are listed under PCB and Panel mount.
But perhaps you could find what your looking for fast
Additional Products:
Also, we've categorised our products by the main industries our products have been used for:
But we've listed commonly searched and categorised our best fitting pushbutton switches and electromechanical components to help narrow your search.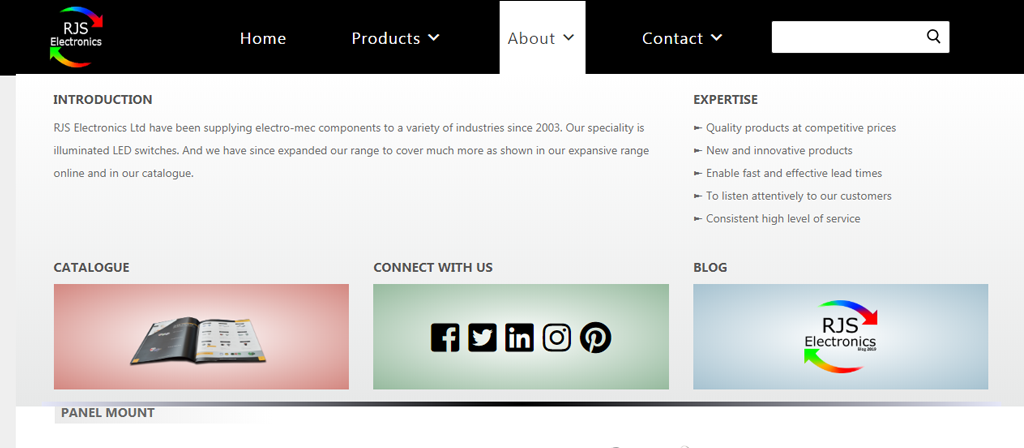 On our about page, you can find out how to contact us and more about us. Read our previous post about the team.
Additionally, You can download, PDF versions of our product catalogues via our about page.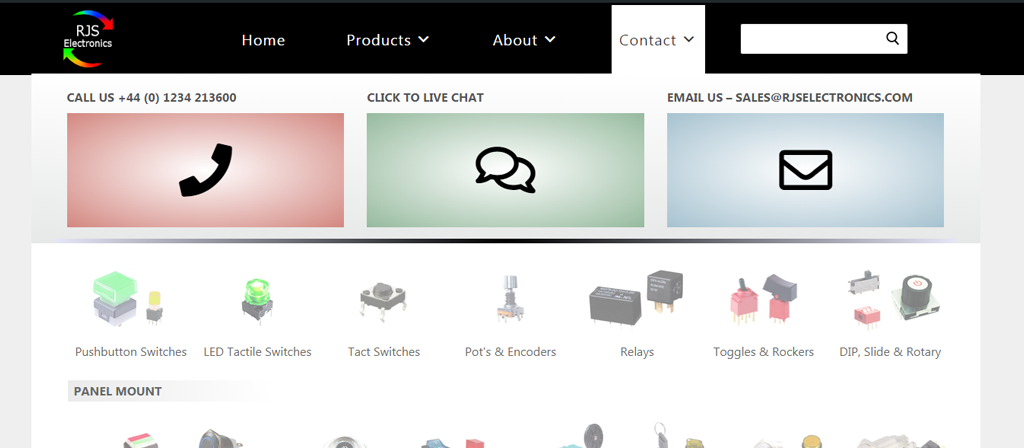 Need to contact us? Leave us a message through our website.
You can always call us: we are in the office from Monday – Thursday 8.30am – 5.30pm and Friday: 8.30am – 4.30pm.
Don't forget you can always contact us on our social media handles, we are on  Facebook | Twitter |Linked In | Instagram | Pinterest and now on Youtube!
Now scrolling down our homepage. Under our banners you will see our featured products section.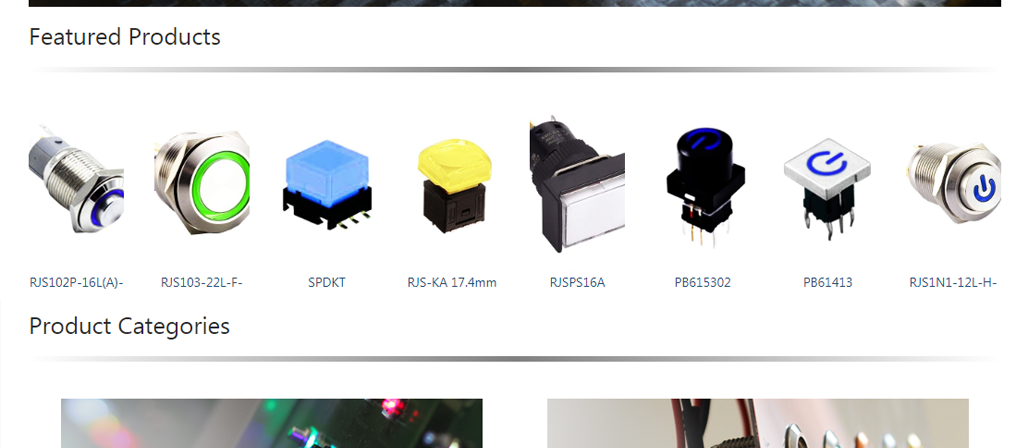 In our featured product section we bring your attention to a range of our products. Quick display of our metal push button switches, indicators and our PCB switches. All our featured products support ring or dot LED illumination or custom illumination or etching or available without LED illumination. Our pushbutton switches are available with, high head, flat head, concave switch shape and select from momentary or latching function and screw terminals or solder lug terminals.
Read our blog series 'All things RJS'. Where post new content every month covering a range of our products and services.
Signup to our mailing list to get updates on our featured products, new products and blog posts.
Contact us on +44(0)1234 213600 | [email protected] | Join our mailing list
Keep informed by joining our mailing list and be sure to follow us on  Facebook | Twitter |Linked In | Instagram | Pinterest | Youtube